Main content starts here, tab to start navigating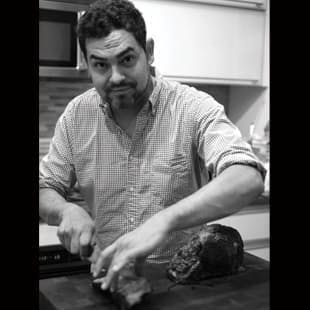 Daniel Sharp
Director, Culinary Operations
I started out deep in the heart of Mexico. It was hard knock life; kill or be killed. I rose up fast and at the tender age of four, I was running the largest and most ruthless drug cartel in all of Michoacán. Being on top took its toll and I didn't want to end up like my predecessors, dead by the age of six. I wanted out, so I slipped away to the city, reinvented myself, enrolled in the Instituto Culinario.
It was a good time in my life, I ate and drank well. Funny aside, due to the relatively high cost of cotton in Mexico at the time, the school furnished us with their signature straw tokes. After finishing school, I entered the kitchen and found the drug trade and the cooking professions oddly similar; lots of knives, drugs, and Mexicans. I fit right in. Soon however my past caught up with me and I decided to flee the Americas altogether.
In Italy, I combined my two passions and entered into the truffle smuggling trade. Being a chef was a great cover. I ate as many as I moved. The food and wine were abundant and life was good again.
Soon however the Italians caught wind of my operation and I was forced to move again. I was in California that I met Daniel Holzman. He too was on the run. Keeping with the code of criminals I never asked from what, but we decided to team up. To stay off the grid we started cooking outdoors, in farms and fields for anyone who would eat.
But soon the country life grew old and we went our separate ways. Daniel went back to New York to open his own place, while I stayed in the San Francisco area and got a job at the venerable Chez Panisse.
When The Meatball Shop took off, Daniel tapped me to help him expand the Meatball empire. I have been in New York ever since.