It's National Meatball Day!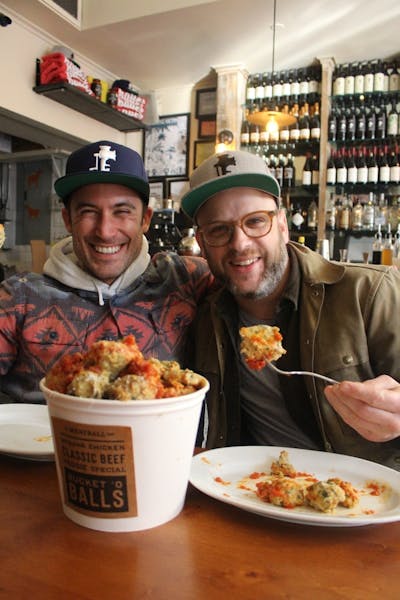 on Saturday, March 9th
...so of course we're celebrating!
Kicking off on March 9th at all shops and available through the rest of the month, we're celebrating National Meatball Day with a GIANT Spaghetti and Mozzarella Cheese filled version of our baller favorite The Spaghetti n' Meatball.
To reserve your meatball & table, call your local shop 24 hours in advance.
Serves 10-12 (or a super brave couple!)
---
Check out all the other fun ways we celebrated our FAVORITE day of the year...
We're hosting a shop wide, Bucket of Balls Meatball Eating Contest on March 9th!
How to enter you ask?!
Head to a shop with a friend, or solo, & order a bucket of meatballs...
If you finish all twenty-five balls in under 10 minutes you each get a $50 gift card to The Meatball Shop and a piece of custom #NationalMeatballDay Merch!
BUT WAIT, THERE'S MORE!
The fastest time across all shops will win an epic night on Daniel's Chicken Bus, catered by The Meatball Shop.
*RULES & REGULATIONS APPLY
---
Make sure to be in the neighborhood...
Because we're giving out free meatballs right outside of our shops, and at pop-up spots all around the city!
Follow @Meatballers to get the details and find out what spots we're rolling into

Because it's National Meatball Day, and that's kind of our thing; )